December 1, 2020
Gifts for Dogs
Support local! Check your local neighborhood pet store for amazing gifts for your pup this holiday season! Here are some ideas to inspire you as you shop for your furry best friend:
Treats: What's a treat jar (or a holiday) without TREATS! Make your dog's day with protein-packed, all-natural treats like Carnivore Crunch, Wild Weenies, Single Ingredient Treats, Raw Coated Biscuits, or Crav'n Bac'n Bites! Shop local and find treats at a store near you.
Premium handcrafted bandana: Stylish and comfortable neck wear to keep your pup festive and warm this winter!
Tennis ball wreath: Calling all tennis ball fanatics: Your dog will love this tennis ball wreath! Spoiler alert: They're squeaky.
Custom placemat: Every dog could benefit from a placemat! This one includes a rubber backing to avoid slipping and is available in a variety of different colors. You can even add your dog's name!
Personalized leash holder: Never lose your dog's leash again and have an adorable decor item for your wall! Choose the backing and silhouette colors, add your dog's name, and state their breed!
Holiday plush toy: Get ready for all-day fun with this interactive burrow toy complete with 3 small toy bones.
Toy basket: Great for clean up and your dog will have all their favorite things in one place with this cotton rope toy basket!
Personalized dog bed: Choose your pet bed size, color, and add your pet's initials or name!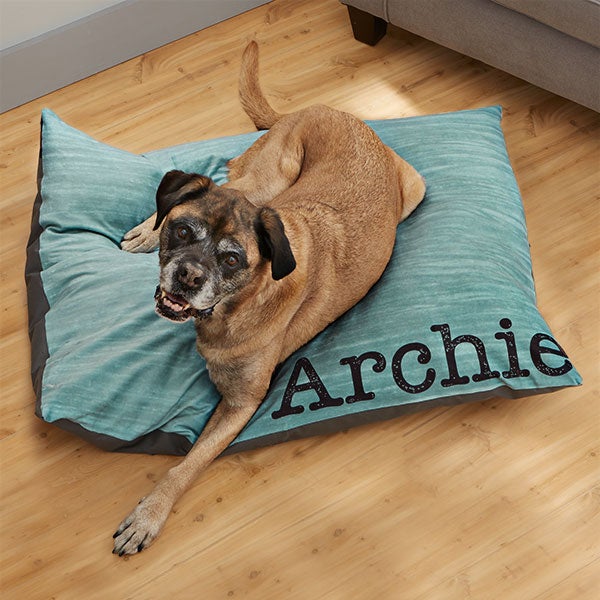 Treat jar: You'll have the cutest treat storage in town with this ceramic dog treat jar guaranteed to make you and your pup smile.
Stocking full of toys: Convenient for you and super exciting for your dog! Get this stocking filled with 8 different toys.
---
Gifts for Dog Lovers
Custom dog sweatshirt: Send your dog's name and photo and BarkeyandWags will create a custom and super soft sweatshirt or hoodie with the outline of your pup's ears!
Fur Mom personalized wooden ornament: We present to you, your new favorite ornament! Select your bow color and number of pet names for a gift you'll want to hang all year round.
2021 calendar: Start next year off on the right foot with a day-to-day 2021 calendar featuring adorable thoughts of a dog.
Dog fist bump hoodie: The perfect gift for your dog-loving friends! Shop now and choose from a variety of colors and sizes.
Reusable shopping bags: You'll love your next grocery shopping run with these eco-friendly, convenient, and dog print reusable shopping bags. Comes in a 6 pack.
Rescue pin: This polished enamel pin from Pet Shop by Fringe Studio will leave no doubts that you love the pet life you saved!
Door decal: Let your friends and family know what to expect walking into your home with this front door vinyl decal.
Paw print bamboo cutting board: The cutest and most versatile cutting board around! Use as a cutting board, serving tray, or wall decor! Available in multiple sizes.
Blanket: Snuggle up with your pup this holiday season in this super cute plush throw.
Paw print kit: You'll have tons of fun making a clay imprint of your dog's paw. This keepsake kit includes everything you need to save your dog's paw print and make it into an ornament or place it on a display stand all year round.
Categories
Dog